Microsoft introduced a set of educational products and services, inspired by teachers and students, including a new Windows experience called Windows 10 S; new experiences in Microsoft Teams for modern classroom collaboration; new features in Minecraft and mixed reality to spark creativity; a range of Windows 10 S PCs for K-12 classrooms; and the perfect Windows 10 S device for college students—Surface Laptop. - From Microsoft's Blog
Microsoft's Relationship History with Education
Microsoft has been accommodating to education in the past. For example, Microsoft has long offered discounts on software and licenses for students, teachers, and education institutions. However, since Google and Chromebooks have entered the market, there has been little reason to stick with Microsoft's products. With higher costs of hardware, software, and apps, Microsoft has some formidable disadvantages when it comes to competing with Chromebooks.
Microsoft has been making steps to make Windows PCs more competitive with Google Chromebooks. By releasing cheaper hardware with a version of Windows capable of running on the limited resources of that hardware, the price point is now comparable with Chromebooks.
The $189 Windows PC, What can it do?
On the lower end of the Windows PC market, the hardware on most of these machines is similar, if not the same, as on Chromebooks. The difference is the Operating System only. While PCs can install Windows compatible software and peripherals, the capabilities of this device does not exceed those of a Chromebook with the same specs.
At their education even, Microsoft made several references to software that does not currently run on Chromebooks. Some of those mentioned were
Adobe Photoshop Elements and Autodesk
. These are two apps very prevalent in education. However,
when looking at the tech specs of the lower priced Windows PC, this software will either run very slowly, or not at all on the $189 Windows PCs
. To run this software effectively, users will need more powerful, and hence more expensive, hardware to run AutoDesk.
Comparison of AutoDesk Requirements* vs a Lenovo N23 (low-end) Windows PC**
As you can see, it will take more powerful hardware to properly run an AutoDesk program. The results of a comparison of Adobe Photoshop (or other Adobe Products) yield similar results. Microsoft also announced a new
Surface Tablet, with a price tag of $999, that would be better suited to the tasks of Photoshop and Auto Desk applications
.
So the capabilities between PCs and Chromebooks priced between $189-$249 are very similar.
Chrome OS has better security, but Windows has its software library. My opinion is, that schools will want a more powerful laptop if they are to go with a Windows solution. In which case, price and value become issues again.
What is Windows 10 S?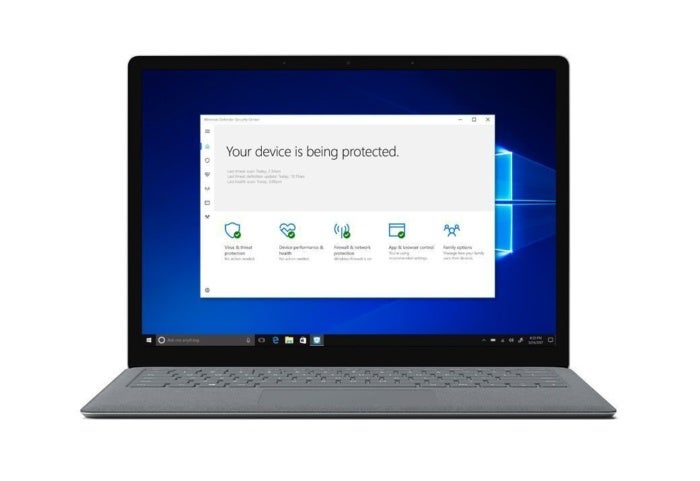 Windows 10 S is a streamlined version of the software, designed to cut out some of the fat of the company's popular ecosystem, in order to offer a more focused computing experience in the classroom.

The company didn't mention Google's offering by name while unveiling the OS, but it's clear that the browser-based laptops were at the front of the company's mind. - From TechCrunch.com
Windows 10 S is a somewhat "watered-down" version of Windows 10, specifically designed to run on the resources of a $189 computer. Basically it is Windows version of Chrome OS, with very similar capabilities.
There are also some features that help teachers limit what apps students can download. Windows 10 S cannot run desktop software, outside of the Windows App store. Doing so will prompt a "This App is Banned" message. See more in this
PC World Article
.
However, is it worth the switch from Chromebooks back to Windows? This quote below explains it best:
Windows 10 S allows the company to slot into existing schools and districts without forcing them to scrap everything and start again. Much like consumers, schools don't want to change up operating systems every couple of years when the time comes to refresh a device. By introducing these systems now, the company hopes to cut off some of the market share erosion that has occurred over the past couple of years, thanks to Chromebooks and to a lesser extent iPads. - From TechCrunch.com
As I have not been able to test out these features myself, take a look at the quote below for managing Windows 10 S devices.
Windows 10 S supports a slew of advanced features found in Windows 10 Pro... like mobile device management, Bitlocker encryption, Azure active directory domain join, and the crucial Windows Update for Business, which allows administrators to fine-tune exactly when they want feature updates to roll out, and defer normal updates for up to 30 days.
It can all be managed through the cloud with Microsoft's new Intune for Education, and admins can configure a system image using a wizard, then slap it on a USB key that can be used to install that customized version of Windows 10 S on any PC in under 30 seconds. - From
PC World
The Bottom Line
What it all comes down to is,
what device are your students and staff going to use to access the internet?
The days of installing software on your computer are slowly, but surely going away. Even today as I write this article, the only app I have had open all day on my PC is Chrome. I have been able to manage over 1,200 student devices, update web filtering policies, and all of my daily technology admin tasks from within the web browser. Do I need more than this?
Even at home, I use a Chromebook to do pay bills, shop, stream media, and update social media. The only time I ever need my computer is if I want to play older PC or Mac games that I have purchased in the past. However, with the increase of emulation and virtual appliances, these tasks may also be accomplished on a Chromebook.
Microsoft is at a competitive level with Google for the education market
. However, Google has been the trailblazer at offering free tools and low-cost hardware. For the past 3-4 years, Google has taken a large share of the education market and Microsoft is just now releasing this "education geared OS and hardware." The problem does not simply come down to price.
From the
technology administration
side, Chromebooks are low-maintenance and overall easier to management than Microsoft PCs. With these clear advantages, I would still recommend making the switch to Chromebooks.
As a
teacher
, I would still recommend Chromebooks over Microsoft PCs. Google's G-Suite for education is simpler to use for many students and staff. If students learn skills in G-Suite, those skills will easily transfer to Microsoft Office, Apple Works, or any other business software. Is it important for students to learn Microsoft Excel, or how to use a Spreadsheet program?
The important concept is the skill learned, not the app or the hardware.
Overall, those that have bought in to Google, should stick with Chromebooks, I see Microsoft's efforts as a way to catch up and not a way to replace Google. Even still at this point, Chromebooks will run Office 365 mobile, but with G-Suite I hardly see the need. As a result,
I see no reason to convert from Chromebooks back to Microsoft products
.
For More Information about Microsoft's Education Event
https://blogs.windows.com/windowsexperience/2017/05/02/microsoft-education-empowering-students-teachers-today-create-world-tomorrow/#vHA7Riyj7O4P9g75.97
https://techcrunch.com/2017/05/02/windows-10-s-will-fuel-microsofts-chromebook-competitors/
*Autodesk Application Specs from https://www2.pltw.org/l/82012/2016-02-10/22r9jz/82012/34771/Appendix_C_Computer_Specs.pdf
**Lenove N23 Specs from https://www.cnet.com/products/lenovo-n23-80ur-11-6-celeron-n3060-4-gb-ram-64-gb-ssd/specs/